Ohio Driver Education Only $52.80
This 24-hour online driver education course is approved by the Ohio Department of Public Safety (DPS). If you are between the ages of 15 1/2 and 18 and need to obtain your learner/instructional permit, you can complete this course to earn DPS credit and apply for your permit at the BMV.
REGISTER
Offered in partnership with DriverEdToGo.com
Over 4 Million Graduated Students
Driver Ed Designed With You In Mind
When teens are first learning to drive, they are highly receptive to important messages about the dangers of unsafe driving and driving while intoxicated. That is why it is so important for parents to get involved at this initial stage to ensure proper and thorough education to help set ground rules and instill good driving habits, as their teen takes on the responsibility of operating a motor vehicle.
Get your Ohio Learner's Permit
Get your Ohio Drivers License
Replace the need to sit in a classroom, with an easy to follow virtual course.
Advanced Coaching beyond Driver's Education
Review on a phone, tablet, laptop, or desktop.
Ohio Online Driver Education and Online Driver Ed Courses
Welcome to DriverEdToGo.com — Ohio's most popular driver education course. This course is purely online and has everything that you need to earn a DMV learner's permit.
Take our course in multiple settings
Have your certificate processed the same day after the completion
Client satisfaction is priority
Detailed audio narration
Qualify for lower insurance rates
Day and night technical & customer support
Ohio Online Drivers Education and Licensing Procedures
We congratulate you for starting the application process for your Ohio learner's permit or first driver's license. Teen drivers can benefit from the Graduated Driver License program that is available in Ohio. Here are some of the things that you should have in mind when applying for your first Ohio's driver's license.
The Ohio Learner's Permit
You can apply for an Ohio Learners Permit, also known as an Ohio Temporary Instruction Permit, when you turn 15 and a half. To apply for this permit, you are required to have the following:
Proof of age and identity
Social Security Number
Your parent/guardian to sign a permit application
If you have all these documents, your parent or guardian should go with you to your local Ohio BMV (Bureau of Motor Vehicles) to submit your application. After submitting the application, you are supposed to take knowledge and vision tests.
If you pass the tests, you earn with your Ohio Temporary Permit.
Remember, you must practice driving with a driving instructor, your parent or guardian. After 6 months of practice, you can move to the next level and practice driving with a licensed driver who is at least 21. When practicing, all passengers should wear seat belts, and you should never leave your Ohio Temporary Permit behind.
You qualify for the next step in the Ohio Graduated License Program after holding your Ohio Temporary Permit for 6 months and meeting a few requirements. This next step is the Ohio Driver License.
The Ohio Provisional or Full Driver License
You are eligible to apply for an Ohio Probationary Driver license after holding your Driver's License for 6 months and meeting these requirements:
Enroll in an approved Ohio driver education course and then complete 24 hours of class instruction.
Completing 8 hours of driving instruction
Practice driving for a total of 50 hours
At least 10 of these practice hours must be at night
Certification of the documented hours by your parent or guardian
If you have satisfied all of the above requirements, you can head down to your local Ohio BMV to take the Ohio road skills test. If you pass the test, you will earn yourself your Ohio Probationary Driver License. However, you will still have to drive with the following restrictions before you turn 18.
Teen Driver License Restrictions and Penalties in Ohio
Here are the restrictions that you have to drive under if you are below 18:
You cannot carry more than 1 passenger that is not family if you are under 17.
There should be proper restraining for passengers.
You may not drive between 12 AM and 6 AM if you are 16.
You may not drive between 1 AM and 5 AM if you are 17.
The restrictions could be lifted if:
There is an emergency.
The teenager is driving to/from a school sanctioned activity.
Driving to/from your place of work. You will be required to produce a written note from your employer.
These restrictions will be lifted once you turn 18.
Ohio Auto Insurance Financial Responsibility Laws
The law requires that all drivers in Ohio to be covered by liability insurance. Here are the figures for the least liability coverage:
$12,500 is the least for bodily injury for one person
$25,000 is the least for bodily injury for two or more people
$25,000 is the minimum for property damage per accident
If you are involved in an accident and the authorities find that you don't have Ohio liability insurance, your license could be suspended for 90 days to 2 years. You may also face penalties such as Ohio license reinstatement fees among others.
Cell Phone, Text Messaging and Drunk Driving Laws in Ohio
Just like many other states, Ohio has a Zero Tolerance Law for underage drinking. Here are the penalties that you face if you are convicted of Ohio DWI or Ohio DUI.
If you are convicted for the first time, you will face the following penalties:
Suspension of your License for 1 to 3 years
Or a 3-day Driver Intervention Program
Further Ohio DUI and DWI will lead to community service, heavy fines, increased jail term, Ohio license suspension.
Ohio Online Driver Education
Software and Browser: The online drivers education courses at DriverEdToGo.com are available on any web browser and require no additional software. As long as you have a computer, tablet, or smartphone with an internet connection, you can take the DriverEdToGo.com online driver education course. If you are an Internet Explorer user, we suggest you update your browser to IE9 or a more recent version for the best viewing and experience of our 3D driving simulations and videos. You can download the latest version of IE here.
Course Format: Our online driver education course consists of 10 chapters and cover all driving education topics ranging from vehicle familiarization, basic control tasks, traffic control devices and laws, natural laws affecting vehicles, operating in adverse conditions, defense driving techniques, effects of drugs and alcohol and more. The course text is supplemented with interactive games, streaming videos, and 3D animations and simulations that demonstrate real-life driving scenarios to enhance your learning experience and keep you engaged.
Course Timing: Each chapter is timed according to the amount the material presented in that chapter. You must spend the required amount of time on each chapter before you can proceed to the following chapter. Ohio State law allows you to spend a maximum of 4 hours on the course during every 24 hour period. Once you have reached the 4 hour maximum time limit the course will stop and a message will pop up informing you of this rule.
Course Breaks: After two hours of consecutive instructions you will be required to take a 5 minute minimum break. You can take a longer break if you wish but it cannot be shorter than 5 minutes. After five minutes you may resume the course.
Course Quizzes: You'll be briefly tested on the course material as it's presented to make sure that you're both watching the videos, interacting with the animations and simulations and retaining the information. Moreover, at the conclusion of each chapter a short, multiple-choice quiz will be administered to test your understanding of the material of that chapter. In total you'll be quizzed with 30 content-based questions throughout the course. These quizzes don't count against your final score, but simply help prepare you for the final exam.
Course Final: Upon completion of the course, you will be required to take a final exam that consists of 50 questions. Of the 50 questions you must answer 38 questions or 75% correctly to pass. If you don't pass, you can re-take the exam an additional two times at no extra charge. If you fail a third time you cannot take the final exam again. You must then enroll in the course once again and take the entire course from the start (please note that you are not required to take the course with our company again if you fail).
Certificate of Enrollment: After completing 2 hours of our online driver ed course, you will receive a certificate of enrollment by US Mail. Upon receipt of this certificate, you can enroll in driving lessons with a driving school of your choice for the Behind the Wheel portion of your course. We have partnered with many driving schools throughout the state of Ohio and we have pre-negotiated rates with many schools. Click here to find a driving school in your area.
Course Deadline: You must complete your course within 6 months (180 days) from the date of your registration. Failure to complete your course within this period of time will result in the de-activation of your account. If your account is de-activated, you will not be eligible for a refund.
Certificate of Completion: Upon successful completion of the course we will send a Certificate of Completion to you via US Mail to deliver to the Ohio Bureau of Motor Vehicles.
Why American Safety Institute?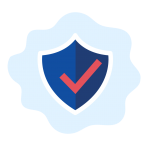 State Approved
ASI has been a leading provider in Driver Education and Traffic Safety Courses since 1992. Our courses have been studied, proven effective, and approved by the DMV.
Lowest Price Guaranteed
American Safety Institute is happy to offer you the best prices in the industry with no hidden fees. Just call or message us on our live chat, and we will match any competitor's price.
Live Customer Support
Speak to a real person today. Our agents are here to help make sure you complete your course successfully!