North Dakota Online Defensive Driving Traffic School Only $27
This online traffic school can be taken from any home computer with internet access. Once you complete the course, we will process and send out your certificate of completion.
REGISTER
Offered in partnership with Go To Traffic School
Over 4 Million Graduated Students
Court:
This online insurance discount and crash prevention course has been APPROVED by the North Dakota Highway Patrol! Your insurance company may provide a reduction in your auto premium charges for personal injury and property damage coverage for at least a 2-year period following your successful completion of this online motor vehicle crash prevention course. Drivers 55 of age or older who successfully complete this course are entitled to a three-year insurance premium reduction.
Final Exam: If you fail the final exam, you will have two (2) re-takes. If you do not pass the final exam after 3 attempts, you will fail the course.
Point Reduction
100% Online, Fast, & Easy
Mobile Friendly
Lower Insurance Rates
General Driver Safety
Point Reduction Course, Insurance Reduction Course, and Court Ordered Ticket Dismissal Course.
How to Enroll in a State-Approved Online North Dakota Insurance Premium Reduction Course
The best online traffic school in North Dakota is offered to drivers through GoToTrafficSchool. ND Traffic school registration with GoToTrafficSchool can be completed in a few easy steps. Drivers interested in obtaining a driving school insurance discount can click here to begin the registration process. Once registered, drivers can complete the four-hour long class and obtain a driving school certificate, which they may then submit to their insurance company for an insurance premium reduction. Before enrolling in GoToTrafficSchool's affordable traffic school program, drivers can check with their insurance company to ensure that it participates in the program.
North Dakota Court-Ordered Courses
A North Dakota safe driving course can be a court-ordered requirement for a driver who accumulates too many traffic offenses in a certain period. Drivers may be able to take an internet traffic school course to satisfy this requirement in the most efficient way possible. However, drivers should check with their court before enrolling in GoToTrafficSchool's low price traffic school program, just to ensure that they are personally eligible to take an online traffic school course.
Insurance Discounts in North Dakota
North Dakota allows drivers to take certain traffic classes in exchange for a discount on insurance premiums. A driving school insurance discount can be available to drivers who complete a state-approved crash prevention course, like the one offered by GoToTrafficSchool, and send a certificate of completion to their insurance company. Drivers who complete an ND safe driving class for insurance discounts can qualify for a reduction on auto premium charges for property damage coverage and personal injury for a period of two years. Drivers 55 years of age or older who take a safety driving course in North Dakota can qualify for a three-year reduction of insurance premiums. While most insurance companies offer the discount, drivers should check with their insurance company before enrolling. Once ready, drivers can enroll in the best internet traffic school at GoToTrafficSchool and get on their way toward lower insurance premiums.
Remove Points From North Dakota Driving Record
Although an insurance premium reduction course does not work as a point reduction course in ND, completing an online insurance course with GoToTrafficSchool will help drivers to avoid accidents, violations and demerit points on their driving record. By earning a driving school certificate of completion from GoToTrafficSchool, drivers can begin saving money while protecting their driving record.
North Dakota Insurance Premium Reduction Courses  
In North Dakota, an insurance reduction course is different from a defensive driving course, which motorists in the state can enroll in for other benefits. Drivers take ND defensive driving classes at defensive driving schools for a number of reasons, including a point reduction or point avoidance.
A North Dakota driver safety training course for insurance reduction will teach students about important subjects, including:
Crash preventability.

Effective responses to incidents on the road.

The effects of alcohol and drug use on motorists

Negative consequences of aggressive driving

Traffic laws and regulations.
The ND driver safety program for insurance reduction is comprised of four hours of class time, and drivers will need to take a final exam to complete the course successfully and earn a certificate of completion. Enroll in the best traffic school on the internet today and become a safer driver on your own time, using any device.
Taking a North Dakota Insurance Premium Reduction Course Online
Online traffic school in North Dakota is available to drivers who wish to enhance their defensive driving skills and receive an insurance reduction on their own time. GoToTrafficSchool's online driver safety course for insurance reduction can be completed from any computer, laptop, tablet or mobile phone with an available internet connection. GoToTrafficSchool's engaging course modules and easy-to-use interface make it the best option for drivers in the state. At the end of GoToTrafficSchool's ND insurance reduction course, students will have three opportunities to pass the final exam with a score of 80 percent or better. When registering, students will even have the option to select an upgrade for unlimited course attempts.
Enroll In An Online North Dakota Insurance Premium Reduction Course Today!
ND Insurance Premium Reduction Courses Online vs. in Person
An insurance reduction and crash prevention traffic course in North Dakota can be completed in a classroom setting or through an online program. In-person traffic schools, which are often referred to as DMV traffic schools, require students to be in a certain classroom location at a certain time, which can be difficult for busy drivers. ND Traffic school locations may be inconvenient for many drivers.
While all insurance reduction traffic classes are four hours long, online courses give drivers the flexibility to complete the course at their own pace. Drivers who choose to complete a classroom-based driving safety course will be required to finish the entirety of the course in one session. The online insurance reduction and crash prevention traffic class from GoToTrafficSchool lets students pause their progress and return to work on it at a convenient time. Taking an ND online traffic school provides a more flexible course options to drivers. Drivers can complete the course at their own pace and learn the material on their own time.
Dismissing a Traffic Ticket in ND
Depending on the court, attending a North Dakota traffic school for ticket dismissal may be an option for some drivers. Before enrolling in GoToTrafficSchool for a driving school ticket dismissal, drivers should consult their court to make sure they are eligible. However, taking GoToTrafficSchool's ND driver safety course for insurance reduction can help to reduce the high price of insurance that comes with having infractions and driving points on a record. Traffic school registration is easy when enrolling in a class offered by GoToTrafficSchool. Click here to complete the registration process in a few steps.
North Dakota Insurance Premium Reduction Course Benefits
A North Dakota driving safety course can benefit drivers of all experience levels. The driving school insurance discount is the most immediate benefit of taking a course. However, ND traffic school allows drivers to improve their driving skills and learn to become defensive drivers on the road. A safe driving class equips drivers with the skills to avoid collisions, keep the roads safe and keep their driving record clean. Drivers can avoid traffic citations by reviewing the current ND traffic laws and regulations, including right-of-way requirements, signs and markings. When taking the course, North Dakota residents will also learn the proper driving techniques to drive on any road, in a variety of weather conditions. The state of North Dakota approves GoToTrafficSchool as a method of completing a driving course for an insurance discount, and interested drivers can work on the program wherever internet is available. All it takes it a computer or other device for drivers to complete a driving class and enhance their safe driving skills.
What types of insurance premium reduction courses are offered in North Dakota?
North Dakota safety driver courses for insurance reduction are offered to drivers who want to advance their safe driving skills and maintain the safety of the roadways while earning an insurance discount. In North Dakota, an insurance reduction and crash prevention safe driving course is a four-hour class offered to drivers who voluntarily enroll. The course covers accident prevention, safe driving techniques, the costs of an accident and more.
This course is also offered through an online class, which can be taken at the individual's own pace. Completing traffic school online allows drivers to enhance their defensive driving skills from their home computer or internet-connected device. Drivers looking to take the course on their own time can click here to register for GoToTrafficSchool in North Dakota and get the best price for their online driving course.
North Dakota Point System
In North Dakota, drivers will receive points on their driving record for traffic violations. The points will vary according to the severity of the violation. The accumulation of 12 points or more can result in license suspension in the state of North Dakota. For every point a driver receives over 11, his or her license will be suspended for seven days. Unfortunately, points also lead to higher insurance rates. The following is a list of common violations and their associated point values in North Dakota.
One point – Speeding 6 – 10 miles per hour (mph) over the limit in a speed zone 70 mph or greater

Two points – Failure to yield right-of-way

Three points – Speeding 16 – 20 mph over the limit in a speed zone less than 70 mph

Four points – Operating a motor vehicle without a license

Six points –  Careless driving
Taking GoToTrafficSchool's online driver safety course for insurance reduction and crash prevention allows drivers to enhance their safe driving, as they avoid violations, points and increased insurance rates down the road.
Why American Safety Institute?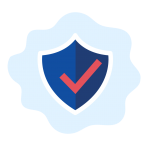 State Approved
ASI has been a leading provider in Driver Education and Traffic Safety Courses since 1992. Our courses have been studied, proven effective, and approved by the DMV.
Lowest Price Guaranteed
American Safety Institute is happy to offer you the best prices in the industry with no hidden fees. Just call or message us on our live chat, and we will match any competitor's price.
Live Customer Support
Speak to a real person today. Our agents are here to help make sure you complete your course successfully!