Minnesota Drivers Education Only $40
This workbook drivers education course is fully approved in Minnesota and satisfies Minnesota's minimum permit and licensing requirements for HOME SCHOOLED students only.
REGISTER
Offered in partnership with DriverEdToGo.com
Over 4 Million Graduated Students
Driver Ed Designed With You In Mind
When teens are first learning to drive, they are highly receptive to important messages about the dangers of unsafe driving and driving while intoxicated. That is why it is so important for parents to get involved at this initial stage to ensure proper and thorough education to help set ground rules and instill good driving habits, as their teen takes on the responsibility of operating a motor vehicle.
Get your Minnesota Learner's Permit
Get your Minnesota Drivers License
Replace the need to sit in a classroom, with an easy to follow virtual course.
Advanced Coaching beyond Driver's Education
Review on a phone, tablet, laptop, or desktop.
Minnesota Online Driver Education and Online Driver Ed Courses
For the most popular Minnesota online drivers education course, come and visit the website DriverEdToGo.com. This workbook course is for home-schooled students only.
Certificate issued the same day as the completion of the course
We guarantee your satisfaction. You only pay as long as you stay!
24X7 customer and technical support
Minnesota Licensing Procedures
For teen drivers looking to get behind the wheel early in their career, the state of Minnesota has a Driver License Program that all aspiring drivers in Minnesota will have to go through to become eligible to drive in Minnesota without restrictions. Before you apply, you should be aware of certain things regarding the License Program. This will make sure that you complete the program without any difficulty.
Minnesota Learner's Permit and Minnesota Instructional Permit
Once you are 15, you can apply for an Instruction Permit. If you meet the following requirements, you can make an appointment at your local Minnesota DVS office and request a permit test. The requirements are:
Completion of 30-hours Minnesota approved driving education
Enrollment in a behind-the-wheel instruction program
Minimum 15 years of age
Application bearing signature of parent/guardian
Proof of completion of approved drivers education
The required fee
Take those documents to your local Minnesota DVS. If all the documents are in proper order, you will be asked to take a written exam and a vision test. If you succeed in the tests, then you have won your Instruction Permit, which will remain valid for the next two years.
Keep it in mind though that the permit allows you to drive on the road only when you are accompanied by a driving instructor who can be one of your parents, your local guardian, or someone else. However, the person accompanying will have to be at least 21. All passengers are required to fasten the safety belts when the car is being driven by an instruction permit holder. The latter is also not allowed to use cell phone while he is driving. Once you have the permit for six months, then you will be deemed eligible to graduate on to the next stage of the License Program.
The Minnesota Full License and Minnesota Provisional License
Before you head to the DVS office to apply for the Provisional Driver's License, there are certain Minnesota state requirements for everyone applying for a provisional license. These are:
The applicant must be at least 16 and holding the Instruction Permit for at least six months
Certificate of completion for an approved driver education course
Thirty hours of supervised driving
At least ten of these hours must be night driving.
If you meet the above requirements, you are free to apply for your provisional license. However, the road test you will need to take is going to be a tough one, so make sure you are prepared enough. But if you pass the test, then you earn your provisional license. This will again remain valid for two years. However, you will still have to drive within certain restrictions.
Once someone has successfully held on to their provisional license for a full year, they are then eligible to apply for a regular Minnesota Driving License. The fee for application is $24, and you will again have to go down to your DVS office to start the application.
Restrictions and Penalties associated with Minnesota Teen Driver License
Below are some of the restrictions that someone with a Minnesota Provisional License needs to be aware of:
All passengers must have their seat-belts fastened
No use of cell phones while driving (no matter if it's a hands-free device or otherwise)
Even with a full license, all drivers, for the first six months after receiving their license, will need to abide by the following restrictions:
No driving between 12AM-5AM (unless a licensed driver at least 25 years of age is accompanying you)
Exception to the above is permitted only in cases of emergency, for commute to and from one's job, and driving to/from some school-sanctioned event
You cannot carry more than one passenger under 20
There are still a further set of restrictions for the succeeding six months:
You cannot carry more than three passenger under 20
Exception to the above will be permitted only if you are accompanied by your guardian/parents
Minnesota Insurance Liabilities
All drivers will also have to carry the minimum liability insurance and Personal Injury Protection Coverage
The minimum PIP coverage in Minnesota is:
Bodily injury— $40,000 per person (PIP)
Medical and hospital expenses— $20,000 (PIP)
Non-medical expenses— $20,000 (PIP)
The minimum liability coverage is:
Injury of one person— $30,000
Injury of 2 or more— $60,000
Property damage— $10,000
The minimum underinsured/uninsured coverage is:
Injury to one— $25,000
Injury to two or more— $50,000
If anyone is caught driving without the mandatory coverage, they could be fined and also get their license revoked.
Minnesota Cell Phone, Text Messaging, and Drunk Driving Laws
Your Minnesota license or permit can get suspended for two to six months if you were found to be drunk while driving.
A first DWI conviction may incur the following penalties:
$1,000 fine
Imprisonment up to 90 days
Suspension of license for six months to one year
Minnesota teen drivers are restricted from using cell phone, text messaging, reading, or composing while driving. The only exception to the above is when you are calling 911.
Minnesota Online Drivers Ed
All aspiring teen drivers in Minnesota are required to complete an approved driver education course. For more information on this, please visit DriverEdToGo.com.
Why American Safety Institute?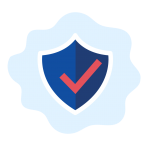 State Approved
ASI has been a leading provider in Driver Education and Traffic Safety Courses since 1992. Our courses have been studied, proven effective, and approved by the DMV.
Lowest Price Guaranteed
American Safety Institute is happy to offer you the best prices in the industry with no hidden fees. Just call or message us on our live chat, and we will match any competitor's price.
Live Customer Support
Speak to a real person today. Our agents are here to help make sure you complete your course successfully!