Get a Lower Insurance Rate
Start the Course for Free
Delaware defensive driving classes can be court ordered to aggressive drivers or voluntarily elected for ticket dismissal and insurance discounts. Attending traffic school in DE offers a range of benefits for students and helps to refresh the driving they received when studying for the initial driving test. The Delaware Division of Motor Vehicles (DMV) requires aggressive driving class attendance from state motorists who have committed three or more Title 21 offenses. Drivers can attend an in-person course, but the online aggressive driving course offered by GoToTrafficSchool and approved by the Delaware DMV provides a much more convenient option. Find the lowest price traffic school online through GoToTrafficSchool and get a safe driving certificate processed the same day.
Point Reduction
Court Ordered
Ticket Dismissal
Lower Insurance Rates
General Driver Safety
Point Reduction Course, Insurance Reduction Course, and Court Ordered Ticket Dismissal Course.
How to Enroll in a State-Approved Online Delaware Aggressive Driving Course
A Delaware aggressive driving course is available online through GoToTrafficSchool. Completing a traffic course online includes three simple steps. Drivers will need to register for and complete GoToTrafficSchool's DE aggressive driving class within 90 days of receiving a notice of mandatory attendance from the DMV. After easy traffic school registration, students can complete the course at their preferred pace using any device connected to the internet, including computer, laptop, tablet or mobile phone. Motorists who complete the program will receive a driving school certificate or completion by mail, and GoToTrafficSchool will conveniently notify the Delaware DMV of the student's completion. Taking an aggressive driving school online is the preferred option for motorists in the state.
Delaware Court-Ordered Courses
A DE aggressive driving class will be required when a driver receives 12 points on a driving record or three convictions for specified traffic violations such as failure to yield, running a traffic light, speeding, following closely or passing using the shoulder. Drivers must complete a state-approved aggressive driving course within 90 days of the conviction to meet the  deadline or face a mandatory 60-day suspension. All of the above infractions will add points to a driving record and can lead to penalties including a license suspension. Drivers who receive 14 or more points on their driving record will have licenses automatically suspended, and they must attend an aggressive driving school to become eligible to reinstate their license. Aggressive driving classes in Delaware are available in person or online. Drivers can click here to sign up for online aggressive driving courses with GoToTrafficSchool.
Insurance Discounts in Delaware
Taking driver improvement classes in DE can result in insurance discounts on monthly car insurance payments, as insurance companies see fewer claims and in turn pay out less on collision damages from drivers who take traffic school. A 10 percent insurance discount may be  available to drivers who completes a traffic course in the state. The Delaware course insurance discount will be effective for three years, and drivers can take another refresher course within 180 days of the end of this three year-period to continue to receive the discount. The insurance discount will increase to 15 percent for drivers who take this refresher course.
Delaware Aggressive Driving Courses
Classroom-based Delaware aggressive driving school courses are a minimum of eight hours in length. DMV traffic school will cover key topics like state traffic laws, rules of road and defensive driving techniques. The DMV defensive driving course will teach drivers how to respond and avoid potential problems while driving. By the end of defensive driving school, drivers will become more aware, be safer and smarter. DE driver improvement programs will normally include multiple lessons and a final exam. At the conclusion of course, drivers will obtain a traffic school certificate to furnish to the DMV, clerk of courts or auto insurance provider.
Taking a Delaware Aggressive Driving Course Online
Enrolling in traffic school online is a fun, engaging and convenient way for students to learn and retain all the required information. DMV approved online traffic schools in DE such as GoToTrafficSchool prevent drivers from feeling stuck in a boring learning environment. Additionally, internet traffic school does not require students to be at a certain place for a long time or multiple sessions. In-person traffic school locations in Delaware can be inconveniently located, making it hard for busy drivers or drivers with suspended licenses to make it to a class before the ninety-day deadline. The best online traffic schools present material in a variety of mediums, such as writing, audio and video. Taking a defensive driving class online allows students to learn at their preferred pace, as they can start, stop and save their progress at any point. The DE aggressive driving class offered by GoToTrafficSchool is untimed, allowing students to complete the course as quickly or slowly as needed during one session or multiple sessions. Students will also be able to take the course in English or Spanish from any internet-connected device, including a tablet or phone.
GoToTrafficSchool's online aggressive driving course gives students three attempts to pass the final exam with a score of 80 percent or higher. GoToTrafficSchool also allows students to upgrade and receive unlimited course attempts. Once completed, the driving school certificate of completion is available for same day processing, and GoToTrafficSchool directly notifies the Delaware DMV of the student's completion. Online traffic school registration with GoToTrafficSchool is easy, and students can begin the course immediately. Registering for a fast online traffic school is the efficient method to complete mandated or voluntary traffic programs in Delaware.
Enroll in an Online Delaware Defensive Driving Course Today!
DE Aggressive Driving Courses Online vs. in Person
The biggest difference of attending an aggressive driving school online rather than in person is being able to learn from any device, at any time and at your pace. Instructor-led driving improvement classes are only available at certain locations during allotted hours of operation. In-person DMV traffic school is also subject to limited classroom size, and students may need to wait for an opening before being able to register. In-person traffic school locations in Delaware may also involve cancellations and rescheduling of classes due to weather or instructor issues.
GoToTrafficSchool's low price traffic school in DE can fit easily into any driver's work, school or personal schedule. Students who take the best internet traffic school can start and pause until they are able to complete the course work. When considering traffic school costs, online courses are less expensive. Taking a traffic course online does not require fuel to drive to the event or other travel expenses like public transportation fees for motorists with suspended licenses.
Both course types are required to cover the same material, but they are allowed to use different instructional methods. GoToTrafficSchool offers different formats to ensure every student's learning needs are met. Students will have access to interactive modules, reading material, audio-based read along options and videos. Register for GoToTrafficSchool's affordable traffic school program to have fun and learn efficiently while meeting your requirements.
Dismissing a Traffic Ticket in DE
Attending a DMV approved traffic school in Delaware may allow a driver to dismiss a traffic ticket, depending on the court that has jurisdiction over the violation. Prior to attending a traffic school for ticket dismissal, drivers can check with the appropriate court to make sure it authorizes the course to be used toward ticket dismissal. However, all drivers can attend a driving safety course to earn a three-point credit applied to future offenses, essentially dismissing the penalty associated with a ticket. A safe driving course should be taken whenever possible to avoid any further consequences, receive an insurance discount and keep a safe driving record.
Delaware Aggressive Driving Course Benefits
The immediate benefit of passing an aggressive driving class in Delaware is satisfying the requirements of the DMV and thereby avoiding a license suspension or other consequences. Another major benefit of a DE aggressive driving school is avoiding collisions and infractions in the future, which drivers feel to be simple and easy as long as they follow all traffic laws and road rules. Avoiding collisions and infractions includes the obvious benefits of reducing fines and the risk of injury, but it also helps to keep a driver's insurance payments low.  
What types of aggressive driving courses are offered in Delaware?
Delaware defensive driving classes are designed for students to attend voluntarily to receive an insurance reduction and a three-point credit that prevents a future violation from impacting a driving record. The Delaware aggressive driving course is mandatory for drivers required to participate in a behavior modification driving course. The student must complete the course within  90 days from conviction to avoid further penalties such as a license suspension. Through this aggressive driving school requirement, Delaware hopes to reform repeat offenders from continuing to make crucial errors when driving and putting themselves and other drivers in harm's way.
Delaware Point System
A Delaware point reduction course can be taken by drivers who are looking to receive a three-point credit towards their driving record. This type of driver improvement school shows drivers how to avoid committing violations that can lead to tarnishing a clean driving record and even the loss of driving privileges. In other cases, a driver will be appointed to complete an aggressive driving class to meet behavioral modification and be able to keep his or her license. Drivers do not realize that points can add up quickly within a year, and it is easy to prevent points by attending traffic school. Examples of citations and points in Delaware are as follows:
Speeding earns the driver between two and five points, depending on how much they exceed the speed limit.

Reckless driving is worth six points.

Stop sign or red light disregard is worth three points.

Passing a stopped school bus is worth six points.
Why American Safety Institute?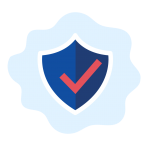 State Approved
ASI has been a leading provider in Driver Education and Traffic Safety Courses since 1992. Our courses have been studied, proven effective, and approved by the DMV.
Lowest Price Guaranteed
American Safety Institute is happy to offer you the best prices in the industry with no hidden fees. Just call or message us on our live chat, and we will match any competitor's price.
Live Customer Support
Speak to a real person today. Our agents are here to help make sure you complete your course successfully!