Alaska Traffic School Only $25
Traffic school in Alaska refers to three different types of courses that teach people how to drive more cautiously. These include a point reduction course, an insurance reduction course and a court-ordered course that is also referred to as a ticket dismissal course.
REGISTER
Offered in partnership with Go To Traffic School
Get a Lower Insurance Rate
Start the Course for Free
Traffic school in Alaska refers to three different types of courses that teach people how to drive more cautiously. These include a point reduction course, an insurance reduction course and a court-ordered course that is also referred to as a ticket dismissal course. AK driver improvement courses are regulated and approved by the Alaska Division of Motor Vehicles (DMV). Alaska DMV approved traffic schools have a core curriculum that reinforces state road rules and safety tips. Traffic courses may be completed by attending scheduled classroom sessions in person. However, most drivers prefer the convenience and efficiency of taking a course from a state approved online traffic school like GoToTrafficSchool.
Point Reduction
100% Online, Fast, & Easy
Mobile Friendly
Point Reduction Course.
How to Enroll in a State-Approved Online Alaska Defensive Driving Course
Drivers have the choice of taking traffic school online or in a classroom with an instructor. For a fast online traffic school experience, enroll today at GoToTrafficSchool. Traffic school registration in Alaska is a simple process that can be completed entirely online at GoToTrafficSchool. Be sure to enroll specifically for an AK point reduction class if the goal is to get rid of points on a driver's license. Alternatively, a driving school insurance discount is offered by car insurance providers for drivers who complete GoToTrafficSchool's Alaska Insurance Reduction Course. GoToTrafficSchool's Court Referred Course is available to drivers who have been ordered by a court to attend an approved traffic school.
Alaska Court-Ordered Courses
Taking a course in defensive driving for ticket dismissal in AK is a court-ordered requirement for some drivers in the state. A judge will determine if the driver is a good candidate for traffic courses and will make a recommendation based on the driver's history. A court-ordered driving safety course for tickets will also allow drivers to have the citation dismissed, avoiding fines and accumulated points.
Once the driver completes GoToTrafficSchool's Court Referred traffic school for tickets in Alaska, he or she will receive a driving school certificate of completion that must be presented to the judge within a predetermined period in order for the traffic citation to be dismissed. At GoToTrafficSchool, drivers can select a same day processing upgrade to ensure they can get the traffic school certificate to the court well before the deadline. Alaska drivers can sign up for GoToTrafficSchool's Court Referred (aka Ticket Dismissal) course today if they were issued a citation and ordered by the court to take traffic school.
Insurance Discounts in Alaska
Taking a class for a defensive driving course insurance discount in AK is a great way for drivers to learn about traffic safety while lowering their monthly car insurance premiums. After taking an insurance reduction course in Alaska, drivers will understand traffic laws and safe driving practices. Insurance companies provide a drivers ed insurance discount on monthly premiums, because these drivers get into fewer accidents, saving the insurance company the costs of payouts. This is an incredible deal for drivers with high insurance premiums, particularly if the costly monthly payments are due to past accidents.
The driving school insurance discount can be obtained online when drivers register for the Alaska Point Reduction course online through GoToTrafficSchool. GoToTrafficSchool will send students a driving school certificate after successful completion of the course, and students can then share the certificate with their insurance provider to get the discount.
Remove Points From Alaska Driving Record
Fortunately for Alaskan drivers, taking a point reduction class to remove points from violations on a driving record is approved by the DMV. The defensive driving course point reduction in AK allows drivers to remove points on a driver's license. Alaskan drivers are allowed to take a point reduction course once every year to remove two points from their record.
GoToTrafficSchool's Alaska online Point Reduction course is a helpful option for drivers who have many points on their licenses, as it allows them to get two points removed. GoToTrafficSchool's online Point Reduction class can be used to save driver's licenses that are in danger of being suspended or revoked. In Alaska, drivers who receive 12 points in one year or 18 points in two years will have their driving privileges taken away. Depending on the severity of the situation, the AK DMV will decide to either suspend or revoke the license. After a student completes the DMV-approved Point Reduction course, GoToTrafficSchool will conveniently email student's course completion verification directly to the Alaska DMV.
Alaska Defensive Driving Courses
Traffic courses can be used to get drivers reintroduced to driving safety and road rules in Alaska. However, defensive driving school in AK has plenty of other incentives that attract applicants. When it comes to traffic school costs in Alaska, earning a traffic school certificate is incredibly beneficial for drivers. State approved defensive driving classes like those offered by GoToTrafficSchool are a great way to save money, because drivers who earn their driving school certificates are eligible to receive discounts on car insurance or waive a traffic ticket fine.
Beyond traffic school prices, defensive driving training in Alaska offers incentives to drivers who have a less than spotless driving record. Point reduction classes in AK can be attended once every year to remove points from a driver's license. A traffic school certificate is also valid in an Alaska court of law to satisfy court-ordered driving school requirements for minor traffic infractions.
The Alaska DMV offers plenty of affordable traffic school choices throughout the state. Traffic school locations are available in a few locations throughout the state, but internet traffic school is becoming extremely popular. DMV approved online traffic schools provide a great option for people with busy schedules who do not have the free time to attend a physical class. For drivers interested in the best internet traffic school in Alaska, register online today with GoToTrafficSchool!
Taking an Alaska Defensive Driving Course Online
Taking a defensive driving course online is a convenient option for people who do not have the time to attend several classroom sessions. Online driver safety courses share a similar curriculum and final examination process with traditional classroom-based traffic schools. However, the course's presentation style and pace are much different.
In person driving improvement courses in Alaska may be broken up into several classroom sessions that are each a few hours long. For most individuals, this may be a lot of time to devote to a course. With online traffic school, the student is able to break up the lessons into convenient blocks. Drivers who need more time to learn are also able to complete the course at their own pace. GoToTrafficSchool's online traffic classes takes around six hours to complete, but the courses are not timed, so students can take as much or as little time as needed to finish the course. Ready to start your online traffic school education?
Enroll in an Online Alaska Defensive Driving Course Today!
AK Defensive Driving Courses Online vs. In Person
Driver safety courses in AK can be taught in one of two ways. Students can take the driving improvement course either online or in a classroom environment. Both defensive driving course types are approved by the Alaska DMV and teach similar principles: safe driving habits, Alaska road rules and how to handle emergency situations behind the wheel. For most, online traffic school is the better choice because it gives them the extra time and flexibility that they need to understand the material. Alaska is a big state, and there are only a few approved traffic schools throughout the state. Most drivers live too far away from the nearest location. Additionally, instead of just a lecture, the best online traffic schools like GoToTrafficSchool include a mix of videos, reading material, an engaging user interface and audio- based read along upgrades.
Both traffic course types take several hours to complete. Students taking the defensive driving class online can complete the course at a comfortable pace so long as it is before the course's online expiration date. Students who opt for a classroom setting may have to attend several sessions, each of which will be a couple hours long. All traffic classes in Alaska will include an examination at the conclusion of the class. In Alaska, students who take an online traffic course will need to take the final exam at a proctored on-site testing location. Students who do not have one of these locations within 50 miles of home can talk to their direct supervisor to see if the exam can be taken at an alternate location. Fortunately, GoToTrafficSchool allows students to upgrade to an unlimited course attempts option, so that they do not have to worry about failing the exam and re-taking the course.
Dismissing a Traffic Ticket in AK
Can defensive driving remove tickets in Alaska? Indeed, defensive driving classes may be used to get rid of minor traffic citations. To attend traffic school for speeding tickets and other violations, drivers need to be referred by the court. If the judge determines that the driver will be a good candidate for defensive driving school, the driver will receive directions on how to enroll. When drivers demonstrate that they understand the principles of driving safety, courts recognize that they are likely to be less of a threat on the road. Drivers who have been court-referred to attend an AK driving school ticket dismissal program can register today for GoToTrafficSchool's convenient and engaging Alaska Court Referred traffic school course. If you think that online traffic school is for you, choose the best internet traffic school in AK and apply now with GoToTrafficSchool.
Alaska Defensive Driving Courses Benefits
Defensive driving courses in Alaska are popular for their many benefits apart from helping drivers brush up on driving skills. Completing an AK defensive driving course enables drivers to dismiss traffic tickets, reduce driver's license points and lower the monthly premium on car insurance.
The defensive driving course insurance discount in Alaska is one of the most beneficial rewards of taking a traffic course, because every driver has to have some type of car insurance associated with his or her car. By taking a driver improvement class in AK, car owners can reduce their monthly car insurance payment. Going to driving school for ticket removal is another great reason to enroll. If endorsed by a judge at the court hearing, a driving school certificate of completion can dismiss minor traffic infractions, including any associated fines. The DMV point reduction course in Alaska can also be used to reduce the amount of points on a driver's license. This is especially useful considering that obtaining a certain amount of points on a license can result in license revocation or suspension. Benefit from all the incentives the best online traffic school has to offer – register with GoToTrafficSchool today!
What types of defensive driving courses are offered in Alaska?
Alaska driving improvement classes come in three different types, which are all available for motorists to complete online with GoToTrafficSchool. GoToTrafficSchool's Court Referred AK driving school ticket dismissal course satisfies court-ordered traffic school attendance and allows participants to have a violation dismissed. The AK online Point Reduction course lets drivers have two points removed from their driving record after successful completion. GoToTrafficSchool's online Insurance Reduction course allows drivers to earn a traffic school certificate that they can present to an insurance provider in exchange for a lower auto insurance premium.
GoToTrafficSchool offers state-approved, low price traffic school in Alaska to meet every driver's need.  Enroll now with GoToTrafficSchool!
Alaska Point System
DMV traffic school in Alaska is a means of removing points from a driver's license. If a student is able to pass a Point Reduction driving safety course, the Alaska DMV will erase two points from a driver's license. Point reduction courses may be taken for credit no more than once every year.
The following are some examples of common violations and their points value in the Alaska DMV point system:
Two points: Driving 3 – 9 miles per hour (mph) over the speed limit
Four points: Careless driving, driving too close behind another car, failure to  stop or yield sign, driving 10 – 19 mph over the speed limit
Six points: Speeding in a playground or school zone, driving without car insurance, negligent driving, not yielding for an emergency vehicle, not stopping for an unloading school bus, driving 20 mph or more over the speed limit
Ten points: Reckless driving, driving under the influence, refusing a breathalyzer test, drag racing, vehicular assault or manslaughter, driving with a suspended or revoked license, fleeing a police officer
The defensive driving course point reduction is helpful when it comes to getting rid of points on a driver's license. If a driver receives 12 points in a one-year span or 18 points in a two-year span, the penalty is driver's license suspension or revocation. Point reduction classes cannot be used to remove points once a license is suspended or revoked.
Why American Safety Institute?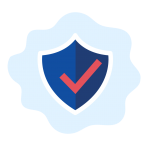 State Approved
ASI has been a leading provider in Driver Education and Traffic Safety Courses since 1992. Our courses have been studied, proven effective, and approved by the DMV.
Lowest Price Guaranteed
American Safety Institute is happy to offer you the best prices in the industry with no hidden fees. Just call or message us on our live chat, and we will match any competitor's price.
Live Customer Support
Speak to a real person today. Our agents are here to help make sure you complete your course successfully!