Virginia Traffic School Only $28.99
Select this course if you were referred by the DMV to attend a Driver Improvement Clinic course. This course is approved by the Virginia DMV. IMPORTANT NOTICE: If you enter your date of birth incorrectly, your completion information will not be posted to your driving record, therefore; if you are DMV directed, your clinic requirement will not be satisfied.
REGISTER
Offered in partnership with Go To Traffic School
Get a Lower Insurance Rate
Start the Course for Free
Completion of a Virginia driver improvement course allows a driver to obtain driving safety points, fulfill mandatory traffic school requirements, qualify for a lower insurance rate and provide advanced knowledge of the state's traffic laws. GoToTrafficSchool offers a convenient, state-approved VA online traffic school so drivers can take the course using a simple and quick online program. Virginia driver improvement schools are regulated and selectively approved by the Virginia Department of Motor Vehicles (DMV).
Point Reduction
100% Online, Fast, & Easy
Mobile Friendly
Lower Insurance Rates
General Driver Safety
Point Reduction Course, Insurance Reduction Course, and Court Ordered Ticket Dismissal Course.
How to Enroll in a State-Approved Online Virginia Driver Improvement Clinic
VA defensive driving school can be attended in-person or online. Online traffic classes are usually the top choice for drivers because they are a convenient and hassle-free way to complete voluntary or required education. A driving improvement course in Virginia may be court-ordered or DMV-ordered after a violation has occurred. However, some drivers may opt to enroll in defensive driving classes voluntarily to eliminate traffic points, learn more about roadway laws or reduce auto insurance rates.
GoToTrafficSchool offers VA driver improvement programs available to drivers looking for a fast way to register for an online school. Click here to complete traffic school registration in Virginia using GoToTrafficSchool's easy process.
Virginia Court-Ordered Courses
The Virginia DMV requires drivers to complete a driver safety course if they accumulate 12 demerit points within 12 months or 18 demerit points within 24 months. Failure to finish DMV-ordered driver safety training in VA within 90 days will lead to suspension of driving privileges until the course is completed. Drivers who have accumulated 18 points in 12 months or 24 points in 24 months will have their license automatically suspended for 90 days, and they will be required to take a driver improvement clinic in order to have the privileges reinstated. GoToTrafficSchool's DMV-Referred Virginia driving improvement class is approved to satisfy these requirements, and GoToTrafficSchool will notify the DMV directly as soon as a student completes the course.
VA traffic school attendance can also be mandated by a court. Students who complete GoToTrafficSchool's Court-Referred driver improvement class will receive a driving school certificate that they can present to the court in order to satisfy court-ordered traffic school attendance. Taking a Virginia defensive driving course online through GoToTrafficSchool makes it easy for drivers to adhere to the important court or DMV order and learn more about the state's traffic legalities from the comfort of home. Completing a fast online traffic school like GoToTrafficSchool is a simple way to satisfy court or DMV orders and avoid a driver's license suspension.
It is your responsibility to determine if your court accepts this computer-based driver improvement course to satisfy a court required driver improvement course.
Insurance Discounts in Virginia
Successful completion of a VA safety driving course can qualify certain drivers for an auto insurance discount. Drivers who have successfully attended a safe driving class in Virginia are more likely to stay safe on the road, avoiding accidents and violations. Insurance companies offer these drivers defensive driving course insurance discounts on their current auto insurance policy. Drivers can enroll in GoToTrafficSchool's Insurance Reduction Course in order to obtain a traffic school certificate that they can present to their insurance companies in exchange for a lower premium rate. Drivers should note that the state of Virginia does not allow drivers to obtain both safe driving points and an insurance discount for completing a traffic course. Instead, they must choose one of these two benefits. However, drivers can note that keeping points off a record will also keep insurance rates low. The state also prohibits driving school insurance discounts for traffic courses ordered by a court.
Taking a VA traffic school online, such as the GoToTrafficSchool program, can make it easy for drivers to complete the course on their own time. With this Virginia internet traffic school, drivers can finish the class and start obtaining a lower insurance rate immediately. GoToTrafficSchool is the top choice for drivers because it offers a simple user interface and compelling course curriculum. Often referred to as the best online traffic school, registration for GoToTrafficSchool is quick and easy for prospective students.
Remove Points from Virginia Driving Records
Attending a point reduction course in VA allows drivers to eliminate five points on their driving record. Traffic points are accumulated on a record when a driver commits violations such as speeding or running a red light. Drivers may consider a Virginia DMV point reduction course to delete these points from their record so they do not face more severe consequences from the court. An accumulation of traffic points can lead to the suspension of a driver's license and may raise auto insurance rates. Furthermore, the defensive driving course point reduction can be applied as a credit to drivers who have fewer than five points on their license. For example, a driver with a clean driving record can complete a Safe Driving Points course. If they then receive a four-point penalty for a traffic violation, they will maintain a clean record and have a one-point credit to spare. Drivers can receive a defensive driving course point reduction in Virginia once every 24 months. It is up to the court to determine if drivers are eligible to receive a point reduction for court-ordered traffic courses.
Participating in an online point reduction course like GoToTrafficSchool's DMV-approved Safe Driving Points course is a popular way for drivers to eliminate these points. GoToTrafficSchool will notify the DMV as soon as the driver completes the course, so he or she can have the points removed quickly, avoiding suspensions and high insurance rates.
Virginia Driver Improvement Clinics
A VA driver safety program, interchangeably referred to as a driver improvement clinic by the DMV, can offer many benefits to drivers who complete one. Attending a defensive driving class in Virginia will teach drivers the details of state traffic laws and how to drive defensively, responsibly and courteously. These DMV traffic school courses are designed to improve driving skills and enhance state road law knowledge so drivers are less likely to experience car accidents or commit violations after completion. DMV approved traffic schools can be attended online or in-person.
Drivers looking into an affordable traffic school in VA that can be taken online turn to GoToTrafficSchool because it offers interesting and relevant course content. Quickly gaining traction as the best internet traffic school in Virginia, GoToTrafficSchool has a simple registration process and allows drivers to complete the coursework whenever they have free time.
Taking a Virginia Driver Improvement Clinic Online
Virginia DMV approved online traffic schools provide an efficient option for drivers needing to complete a mandatory class or wanting to take educational driver improvement course. GoToTrafficSchool offers driving safety courses that drivers can work through from any device, according to their own schedule. Online safe driving courses have proven to be beneficial for drivers with a busy schedule who cannot attend an in-person class for the required eight-hour length.
Taking a VA defensive driving class online is the top choice for most drivers in the state because the coursework can be completed on their own time, in their own home or another convenient location. A defensive driving course online also allows drivers to work through the course content at their own pace. GoToTrafficSchool encourages students to take their time with challenging concepts, so they can grasp important ideas and improve their driving techniques and knowledge of traffic laws.  A low price traffic school like GoToTrafficSchool is the first choice for drivers who want to satisfy a requirement or improve their driving record, driving skills or insurance rate in a short period of time.  Enroll in an Online Virginia Driver Defensive Driving Course Today!
If you are under age 20, this computer-based driver improvement clinic will not satisfy a driver improvement clinic requirement.  You must satisfactorily complete a clinic that provides classroom instruction.
VA Driver Improvement Clinics Online vs. in Person
Virginia traffic school locations are available throughout the state for drivers who need to take a course to satisfy court orders, improve a driving record or enhance their knowledge of traffic laws. However, many drivers prefer to attend an online course because of its convenience and easy registration process. GoToTrafficSchool is quickly becoming the best online traffic school in VA because drivers are impressed with its engaging content and easy-to-navigate interface.
A classroom-based defensive driving course in VA requires a driver to commute to the school's location and dedicate at least eight hours of receiving in-person instruction for successful completion. Most drivers opt to work on the course online with a state-approved defensive driving program like GoToTrafficSchool, so they can avoid this scheduling commitment and commute, which can be especially difficult for drivers with suspended licenses. Online defensive driving training like GoToTrafficSchool offers pertinent content related to updated traffic laws, so drivers feel more confident and prepared to drive safely after completion.
Certificate of Completion
Students are required to pass the final exam to complete the course.  Your completion information will be electronically submitted to DMV within 24 hours, and students will receive a certificate of completion.  It will arrive in the mail according to the delivery method selected during the online registration.  The delivery methods range from standard United States Postal Service mail to Priority Overnight delivery, and shipping fees vary according to method.
Centralized Test Sites
Drivers may take a driver improvement course online, but they must complete the final exam at a centralized testing site.  Proper identification is required, and drivers may only take the exam once a day.  Open book testing is not allowed.  To find a testing site near you, choose a location from the .
Dismissing a Traffic Ticket in VA
Attending Virginia traffic school for tickets can help drivers to eliminate points associated with violations on their driving record. Infractions that a driver receives have associated penalty points that are placed on the driver's record. These points can result in certain penalties, such as a license suspension or higher insurance rates. Attending a driving school for tickets can dismiss up to five points. GoToTrafficSchool offers a Safe Driving Points course that makes it easy for drivers to complete this driver education and earn a five-point credit.
Attending traffic school for speeding tickets in Virginia is a great way to brush up on the rules of the road and prevent future violations. Drivers shopping for the lowest price traffic school to complete this coursework usually end up enrolling in GoToTrafficSchool. This VA affordable traffic school covers important content that is applicable to everyday driving situations and offers an easy online platform.
Virginia Driver Improvement Clinic Benefits
VA online driver safety courses like GoToTrafficSchool can offer drivers numerous benefits after completion. Those who attend this online traffic school for less will learn more about updated traffic laws and sharpen their responsible driving skills. A defensive driving course in Virginia can also reduce traffic points from a driver's record or provide a credit against future point penalties. Attending a state-approved DMV defensive driving course will satisfy a court or DMV order for driver's education and prevent penalties such as fines or a driver's license suspension. VA defensive driving classes can provide other drivers a lower auto insurance rate after a safe driver discount has been applied to their policy. GoToTrafficSchool's best defensive driving courses make finishing this course quick and easy for drivers who want any of these benefits.
What types of driver improvement clinics are offered in Virginia?
Since a Virginia traffic course can be taken via simple online platform at GoToTrafficSchool, many drivers choose this convenient option. GoToTrafficSchool offers the three main course types available in Virginia. The Court-Referred traffic school course is designed for students who have been court-ordered to finish a driving safety class. Similarly, the DMV-referred VA defensive driving class is designed for drivers who have been ordered by the VA DMV to take a traffic course. The Safe Driving Points class lets students earn a five-point credit on their driving record.
Online driver safety courses through GoToTrafficSchool allow drivers to work from home on their own time when completing the coursework. Often called the fastest online traffic school, GoToTrafficSchool features an easy user interface and content that is useful for drivers to stay safe behind the wheel. With an emphasis on teaching state traffic laws and enhancing defensive driving skills, GoToTrafficSchool contributes to cleaner driving records and safer roads. Drivers looking for a DMV online traffic school for educational purposes or to satisfy court orders register for GoToTrafficSchool because of its quick and easy enrollment process.
Virginia Point System
Taking a convenient VA online point reduction course through GoToTrafficSchool allows a driver to eliminate five points from his or her record or earn a points credit to offset future points. The traffic point system in Virginia assigns penalty points to violations. Depending on the severity of the traffic violation, drivers will receive three, four or six points, and the points will remain on the record for two years. These traffic points can add up to legal consequences, such as a driver's license suspension. Examples of violations and their associated points include the following:
Three-point violations: Speeding one to nine miles per hour (mph) above the speed limit, Improper passing, Failure to obey highway sign
Four-point violations: Speeding 10-19 mph above the speed limit, Failure to stop and yield right-of-way, Failure to slow down or stop at a railroad crossing
Six-point violations: Speeding 20 or more mph above the speed limit, Driving while intoxicated, Driving on suspended license.
GoToTrafficSchool's Virginia driver safety training programs teach drivers the state's traffic laws and penalties, leading to fewer incidents and violations.
Why American Safety Institute?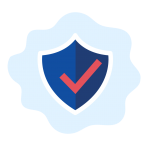 State Approved
ASI has been a leading provider in Driver Education and Traffic Safety Courses since 1992. Our courses have been studied, proven effective, and approved by the DMV.
Lowest Price Guaranteed
American Safety Institute is happy to offer you the best prices in the industry with no hidden fees. Just call or message us on our live chat, and we will match any competitor's price.
Live Customer Support
Speak to a real person today. Our agents are here to help make sure you complete your course successfully!