North Dakota Online Defensive Driving Traffic School
If you've received a traffic ticket in North Dakota and the court allows you to attend a defensive driving course or if your insurance company gives discounts for completing traffic school, the sign up now for Driving University and have your certificate mailed directly to you.
REGISTER
Offered in partnership with Driving University
Our North Dakota online course is approved by North Dakota Highway Patrol and Department of Transportation and consists multiple choice questions. Short stories and photos of highway humor add to this simple, wonderful and interesting course. The course is self-paced and can be taken from the leisure of your home or office 24 hours a day, 7 days a week.
Traffic tickets and fines. Auto insurance. General traffic safety.
Replace the need to sit in a classroom, with an easy to follow virtual course.
Advanced Coaching beyond Driver's Education
We know you are busy, so this informative 4-Hour Course contains several short modules for easier viewing.
Review on a phone, tablet, laptop, or desktop.
The North Dakota Course Details
What is the North Dakota traffic school?
North Dakota traffic school, also known as defensive driving, is an online course approved by North Dakota Highway Patrol and North Dakota Department of Transportation, that can be taken to reduce points on a driving record and may also provide a discount on auto insurance. Driving school online in North Dakota is user friendly for everyone at Driving University. If you can take defensive driving for an North Dakota traffic ticket, or you get a break on your insurance for completing a defensive driving school course, then sign up today for Driving University and do it all online. It's the responsibility of the student to make sure the state, insurance company or court accepts the completion of traffic school.
How does driving school in North Dakota work?
Now that North Dakota drivers can take defensive driving online, more and more people are staying at home and achieving the same result. After you sign up and pay for the course, you immediately start the online defensive driving program. You can finish the traffic school program in one evening or you can start and stop whenever you want because it's a self-paced, online defensive driving course.
How is traffic school online in North Dakota different?
The obvious difference between online defensive driving and brick-and-mortar driving schools is the fact that you do all of it at home or wherever you have internet access. The difference between online defensive driving schools is that the Driving University traffic school is simple and user-friendly. Not all online defensive driving programs are alike. The Driving University online school does not require intensive studying, memorizing North Dakota traffic laws, or taking notes to get through it. Sign up today for Driving University and experience what online defensive driving is about.
North Dakota Certificate of Completion
Whether you finish the Driving University online defensive driving program at 10am or 10pm, your North Dakota certificate will automatically be generated. We will mail your North Dakota certificate to you or you can have it delivered by overnight delivery ($37.00). Be sure to give the North Dakota traffic court or your insurance provider your driving school certificate.
In A Hurry?
No problem! Choose overnight delivery when you sign up and Driving University will send your North Dakota defensive driving school completion certificate to you overnight.
No Fail Guarantee
Failure is not accepted at the Driving University defensive driving school. At the end of the Driving University traffic school course is the final quiz made up of multiple choice questions about the course. Nearly everyone scores much higher than the 80% required to pass the online driving school program. The few who do not score high enough to pass the defensive driving program on their first try can retake it is many times as they need to at no added cost.
Why American Safety Institute?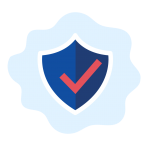 State Approved
ASI has been a leading provider in Driver Education and Traffic Safety Courses since 1992. Our courses have been studied, proven effective, and approved by the DMV.
Lowest Price Guaranteed
American Safety Institute is happy to offer you the best prices in the industry with no hidden fees. Just call or message us on our live chat, and we will match any competitor's price.
Live Customer Support
Speak to a real person today. Our agents are here to help make sure you complete your course successfully!